News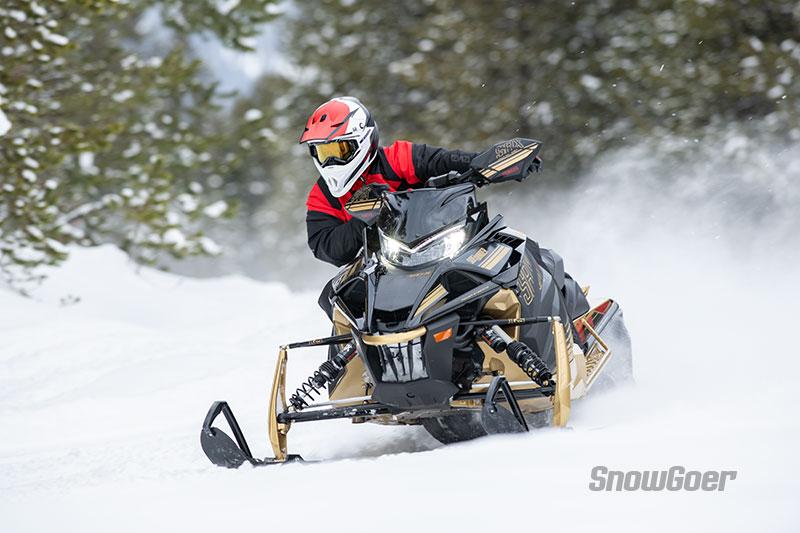 Yamaha To Exit The Snowmobile Market In Model Year 2025
The rumors are finally true. Model year 2025 will be the last for Yamaha snowmobiles, as the brand will exit the market altogether. It will leave behind a 57-year history that started with the 1968 SL350 and will end with a model lineup dominated by turbocharged Sidewinder four-strokes. In between, Enticers and Exciters, Phazers and V-Maxes, multiple generations of exciting and innovative SRX models and much, much more fulfilled dreams of snowmobiler's across the Snowbelt.
That's coming to an end. Yamaha's focus will shift, company officials said, to other business interests.
   The announcement, made June 28, 2023, came right from the top. In a press release, Yamaha Motor Corporation of Iwata, Japan, said it had "concluded it will be difficult to continue a sustainable business in the snowmobile market.
   "Going forward, Yamaha will concentrate management resources on current business activities and new growth markets," the release continued. The brand's side-by-side, marine, motorcycle and E-Bike lines are the likely beneficiaries of snowmobilers loss.
   During a hastily called teleconference hosted from a hotel in Ottawa, Ontario, leaders of Yamaha's North American Snowmobile Division spoke in rather muted tones. They were clearly shaken personally by the decision.
   "We've been trying everything we can from a North American snowmobile team perspective to make sure this business can stay within our portfolio," said Jaret Smith, Yamaha's snowmobile product manager. "We've been working very hard over the last few years here trying to ensure we have something viable and did everything we could to try to save this business."
   Most of the brand's 2024 model lineup has already been built or is currently being built by Textron/Arctic Cat. Therefore, this will have no effect on snowmobiles already ordered by consumers and dealers for this coming winter, explained Bryan Hudgin, Yamaha Canada's director of marketing & brand development.
      A full 2025 Yamaha lineup will also be announced as scheduled early next year. That will then be the end for Yamaha snowmobiles in North America. In Europe, the end will come sooner with the 2024 lineup.
     Company officials also set out to assure customers and dealers that parts, service and warranty functions will remain in place even after the whole goods are gone.
Yamaha Snowmobiles: Some Context
Yamaha's relative level of commitment to the snowmobile market has long been questioned by some snowmobiling insiders. When the brand began partnering with rival Arctic Cat in model year 2014 to have that company build most of its performance models, those rumors got louder.
   The closure of Yamaha's Wisconsin R&D facility announced in 2021 raised more eyebrows. Then, when the brand unveiled a 2024 model lineup that included no Yamaha-exclusive utility machines built in Japan, the writing appeared to be on the wall. With very few product development people on staff, no unique whole goods that didn't have sister machine from Arctic Cat and market share in the low single digits, survival seemed unlikely.
   Still, even with all that evidence, the announcement of the exit from snowmobiling is still jarring for many people. That includes Yamaha employees and dealers, snowmobile media, collectors and everyday riders. The last full-scale brand to leave the market was John Deere in model year 1984. That was 40 years ago, during Ronald Reagan's first term.
   Lynx's addition in North America in the last couple of seasons keeps the sport at four brands. But the relationship of Ski-Doo and Lynx under the BRP umbrella has some questioning whether there are now three or four sled makers.
Yamaha officials said they could not comment on the length of time that Yamaha is contractually obligated to provide engines to Arctic Cat/Textron.
Yamaha Snowmobiles: A Business Decision
Hudgin took snowmobile media through the brand's expected frequently asked questions (FAQs) to describe the situation.
   "The first and biggest question is why is Yamaha exiting the snowmobile market," Hudgin said. "We regretfully made this decision to focus on higher-volume product groups and increase investment in identified growth markets.
    "On a global scale, it's something that Yamaha Motor Corporation is looking at constantly and whether or not the volume is there that is required, and whether the growth in the market and the industry is big enough to continue with that," Hudgin continued. "They've decided to focus on either current industries where we've got more success or invest in identified growth markets."
    There were many factors at place. The limited growth in the snowmobile market and Yamaha's relatively small position in that market were certainly important.
    One big factor that some folks might miss, though, is the demise of snowmobile sales in Russian, Smith said. The Russian market topped 30,000 units as recently as 2014, and it was growing rapidly. Yamaha had a dominant position in the Russian market, particularly with its VK540 and VK Professional utility snowmobiles. Economic conditions and embargoes related to Russia's moves into Ukraine has cratered the Russians snowmobile market, and taken sales of out-of-country snowmobiles to zero.
   Hudgin stressed that there are two model years left (2024 and 2025). He said customers can continue to expect a high level of support from the brand going forward.
   "We are very committed to this," Hudgin said. "We want to make sure our customers are taken care of if they bought a Yamaha in the past or if they continue to buy them in the future. There will be years of parts supply for them to rely upon." Warrantees will also be continued to their full term, he said. 
    The brand also pledged to work with its roughly 500 worldwide snowmobile dealers to help them transition to life beyond sleds, Hudgin and Smith said. Furthermore, no layoffs are planned because of this decision.
    "It's a bit of a shock, but the nice thing about Yamaha is that there are nine different products lines that we can all sort of start to divert resources to and make sure we're giving those the proper attention they deserve," Hudgin said. "No staff are going to lose their jobs, they'll just sort of be reassigned and we're going to move forward."
Yamaha Snowmobile FAQs
    Here's the full FAQ document from Yamaha that was shared with the snowmobile media. It will also be posted on various Yamaha websites:
FAQ
    Please see below for information concerning Yamaha Motor Co, Ltd.'s eventual withdrawal from the snowmobile market.
Why is Yamaha Motor Co., Ltd Japan (YMC), exiting the snowmobile market?

After careful consideration, Yamaha Motor Co., Ltd. regretfully made the business decision to focus on higher volume product groups and increase investment in identified growth markets.
How long will Yamaha Motor continue selling snowmobiles?

The 2025 model year will be the last year of Yamaha snowmobile sales in North America. The season will follow the traditional snowmobile schedule through the winter of 2024. At which point there will NOT be a 2026 model year Spring Power Surge.
Where does a customer get their Yamaha snowmobile serviced?

Yamaha dealers will continue to provide service and parts for Yamaha snowmobiles.
How long will Yamaha supply parts for current or future year Yamaha snowmobiles?

Yamaha Motor is committed to an advanced parts procurement to supply customer demands for years to come.
What about existing deposits for Spring Power Surge?

There is no change to the 2024MY Spring Power Surge. 2024MY deliveries are scheduled to start in the fall of 2023.
How will Yamaha handle warranty fulfillment, either factory or extended?

Yamaha will honor all warranty for the entire term period which was agreed upon at time of purchase.
Will Yamaha ever get back into the snowmobile business?

With this decision, there are no future plans to return to the snowmobile business.
How is Yamaha supporting their dealers during this transition?

Each dealer's business situation is unique. Yamaha will work with dealers to best position each dealer for continued success in the next 24 – 36 months while focusing on existing product groups and expansion of new opportunities.
How is Yamaha supporting their customers during this transition?

Yamaha's direction is to continue offering sales, service, parts and warranty up to and including the 2025 model year line of snowmobiles. Current customers can expect the same level of customer support they have traditionally received.
Will Yamaha continue to offer industry support and attend snowmobile events and consumer shows?

Promotional activities are reviewed, planned and budgeted for annually. Yamaha will make decisions about support for these activities on an individual basis.
Editor's Note: Every Snow Goer issue includes in-depth sled reports and comparisons, aftermarket gear and accessories reviews, riding destination articles, do-it-yourself repair information, snowmobile technology and more. Subscribe to Snow Goer now to receive issues delivered to your door or directly to your computer for a low cost.2