News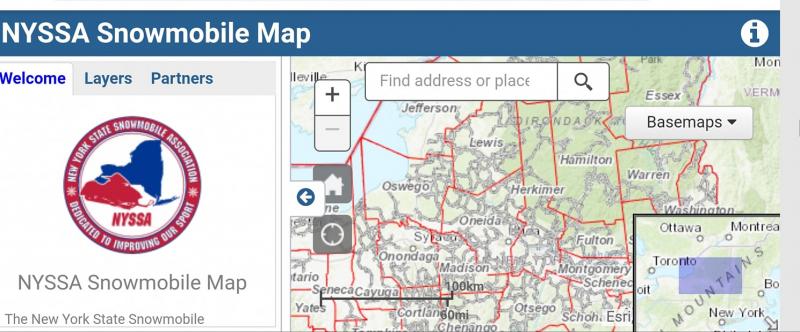 NYSSA INTERACTIVE TRAIL MAP DEBUTS!
NYSSA announces that their new project known as the NYSSA INTERACTIVE TRAIL MAP is now available for viewing – FREE. Over the past 3 months the NYSSA Trails Committee and Trail Coordinator have spent many hours with the selected GIS webmap developer to produce this new webmap for NYSSA clubs and New York State riders to use.
Important notes:
The initial public release will not show the 2018-19 NYS Parks snowmobile unit's assigned funded snowmobile trails as OPEN or CLOSED yet, as the clubs' editing features as well as their login credentials are not fully set-up just yet. (Editing logins and passwords will be sent to those club reps who have notified NYSSA of their intent to maintain their trail segments within the Webmap in December 2018. Clubs who have not yet submitted their contact info to the NYSSA Trail Coordinator will need to do so asap in order to access the dashboard of the editing feature.)
The new Interactive Webmap will allow club reps to show their own trail systems (or segments within) as opened or closed, and also allows the clubs to enter closed down sections of trail and whatever reason they have (logging, bridge out, landowner issues, etc.) and edit in the reroutes of those closed segments and also enter ALERTS on trails to notify riders of specific items of alerts via text boxes describing the issue(s).
IT'S FREE! Anyone may view these snowmobile trails and Points of Interest (POIs) from their computer or smart phone when cell service or wifi is available.
Clubs can also edit in their own "Unfunded Club Trails" and label them by their assigned NYSSA Club Trail ID #s.
Points of Interest (POIs) will also be shown as the club reps enter them. POIs will include Park & Ride lots; Parts/Service locations; business locations such as food, fuel, lodging, and other retail businesses that snowmobilers want/need to know all about.
Viewers can hover over or click on trails for more detailed information about each trail, such as Maintaining Club; Trail ID #; club membership page; and club address. As mentioned, all of these POIs, reroutes, club trails, and other features will be entered by club reps…which means the webmap may look a little bare at first, until clubs enter their trails' information and POIs. It is definitely a WORK IN PROGRESS, which begins the first of the new year.
Other important features available on the webmap are:
Current Weather Radar Loop
(NOAA/NOS/OCS nowCOAST, NOAA/NWS and NOAA/OAR/NSSL | Esri, FAO, NOAA)
Current Snow Depth (Esri, FAO, NOAA | NWS/NOHRSC)
36-hour Snow Forecast (NOAA, Esri | Esri, FAO, NOAA)
New York County borders.
What's Next?
We are working on a smart phone app, which will be available in the near future as well, but that's the next project, above and beyond the current projects NYSSA has going on.