News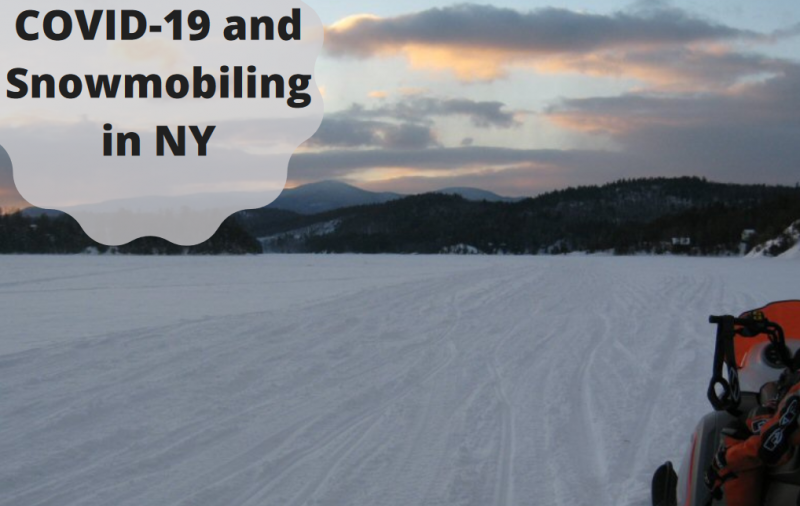 COVID-19 and Snowmobiling
There is no doubt that COVID-19 will change the complexion of snowmobiling this winter.  As of the second week of December, the following is what we should expect.  Remember that the rules can change quickly, so be sure to check the State's website at https://coronavirus.health.ny.gov/home.  Remember that everyone in the Northeast is expecting a banner year for outdoor recreation and snowmobiling is no exception.  The number one thing is that all trails will be open.  So long as there is snow on the ground, we expect to be able to snowmobile.  This spring, when things were worse than they are now, all hiking trails were open.  So our trails should be open this winter.  Based on sales information and early club memberships and registrations, you should expect to see more people out on the trail than you did last year.  Both memberships and registrations are running ahead of last year's numbers for the same date.   However, nothing drives the number of snowmobiler's like a good helping of snow.  It is apparent that many are looking forward to getting out of the house to enjoy a good ride.  Catching a meal while out on the trail could be a challenge but not impossible.  Restaurants are held to 25% of capacity in most of the areas where we ride.  It may become difficult to find a seat indoors at most places.  However, many restaurants are making modifications to their places so that they may be able to accommodate more customers outside.  You should be aware that most of these places are struggling to stay afloat, so be generous in what you spend and be sure to give your server a little extra.  Many of them have lost significant income this past year.
Lodging will also be different.  Many places will limit where you can congregate in the hotel and how large the group can be.  Rooms should be disinfected between guest stays.  Still, you should bring your own supply of disinfectant wipes.  All of us should be following CDC and state guidance in our travels.   A mask not only protects you but also protects those you come in contact with.  Business proprietors are only following the rules when they ask you to wear a mask.  Although a balaclava is a face covering, it is not a mask.  It does not offer the same level of protection to both the wearer and other people around you that a compliant mask provides.  I would suggest that you put some of those disposable masks in your sled.  If you are like me, you will forget to put it in your pocket before you head out to ride.  As the rules are currently stated, traveling to some states will be a challenge.  The way I read it, you just can't travel to Vermont for any nonessential purpose nor gather with folks from outside your immediate family.  (Be sure to check the rules before you go.  https://www.healthvermont.gov/covid-19/travel-quarantine ) New Hampshire has some rules on wearing masks but does not restrict travel into the state.  "NH Department of Health and Human Services continues to recommend against any non-essential personal or business travel, and people should avoid gathering with others who are not part of a person's immediate household, even during the holidays."  The latest information can be found at https://www.covidguidance.nh.gov/out-state-visitors.
Seventeen percent of our riders are from out of state.  The largest percentage are from the surrounding states of Pennsylvania, New Jersey, Connecticut, and Massachusetts.  New York has not imposed any travel restrictions on residents from these states.  They are not subjected to mandatory quarantine.  If you are from Ohio or any other non-contiguous state, it is a much different story.  You must quarantine for 14 days.  From NY's website at https://coronavirus.health.ny.gov/covid-19-travel-advisory, "For any traveler to New York State from a non-contiguous state, US territory or CDC level 2 or level 3 country, the new guidelines for travelers to test-out of the mandatory 14-day quarantine are below:
For travelers who were out-of-state for more than 24 hours:
•Travelers must obtain a test within three days of departure, prior to arrival in New York.
•The traveler must, upon arrival in New York, quarantine for three days.
•On day 4 of their quarantine, the traveler must obtain another COVID test. If both tests come back negative, the traveler may exit quarantine early upon receipt of the second negative diagnostic test."With the Canadian border being closed for travel from NY to Canada and the Vermont border being virtually closed, it looks as though most of our snowmobiling will be in NY.   Keep in mind that in most places we ride, there are limited medical resources.
Here are some suggestions:
•When you are not on your sled, wear a mask.  Yes, it is a pain, but it works.
•Practice social distancing.
•Keep gatherings indoors or outdoors small.
•Be aware of your surroundings and who you are in contact with.
•Put some hand sanitizer in your pocket and use it between hand washing.
•Most importantly, if you do not feel well or have come in contact with someone who is COVID-19 positive, STAY HOME!  There is always next week.  Stay safe this winter but get out there and enjoy the great trail system that we have.  Following a few simple rules can make this a very successful winter for both snowmobiling and the businesses that depend on our showing up!